Atomix is an alien in
Ben X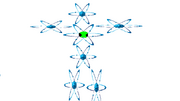 Appearance
Edit
Atomix is made of 3d figures of atoms connecting to each other through magnetic force.
Atomix can control objects and people at an atomic level.
Weaknesses
Edit
Atomix has to concentrate to control objects and cannot defend himself when controlling an object.
Appearances
Edit
Ad blocker interference detected!
Wikia is a free-to-use site that makes money from advertising. We have a modified experience for viewers using ad blockers

Wikia is not accessible if you've made further modifications. Remove the custom ad blocker rule(s) and the page will load as expected.